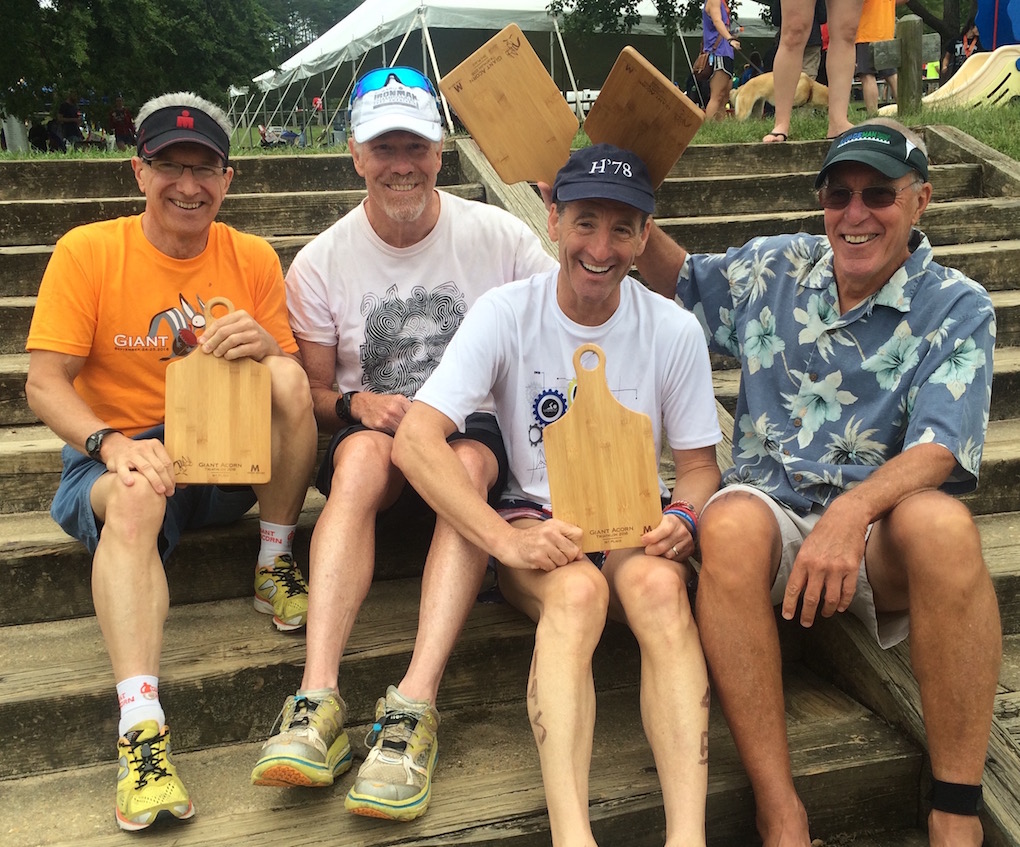 Acorn Races a Late Season Hit with Mid-Atlantic Triathletes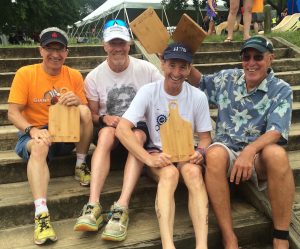 Nuts? Sure, but fun.
The Great Acorn races in Spotsylvania were fun for experienced and novice athletes of all ages. Cool temperatures and overcast skies meant comfortable racing conditions at the Virginia Triathlon Series race in Spotsylvania.
Race directors and volunteers did a magnificent job, with participants aging from under 14 to over 70. The hilly course required athletes to start the bike and run uphill, but meant that both land-based events ended down hill.
Located at beautiful Lake Anna State Park, the Giant Acorn is an end-of-season ritual for hundreds of triathletes throughout the region.
The lake was a bit too warm for wetsuits, but calm, and sighting was easy. With a sandy beach and lots of activities for the kids, whole families could enjoy the late morning start and post-race food. The bike course is the same as the Kinetic Sprint that athletes covered in early summer, so improvement could be measured, just as is possible in the MTS races Watermans International & Sprint and then Rock Hall the following weekend. Located about 100 minutes South of Washington, D.C., just 30 minutes South West of of Fredericksburg and about an hour North West of Richmond.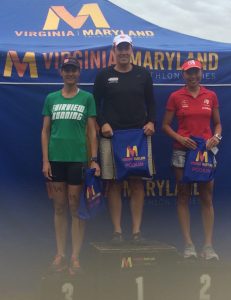 When the announcement was made that the water was too warm for wetsuits in Sunday's Giant Acorn sprint races, Doug Landau had to change strategy and work the swim harder than he had planned. Running full-tilt up to the transition area, lawyer Landau managed to pass several athletes out of the park, and then pass bikers during the rest of the 15.5 mile course, with only on cyclist passing him. Landau had a good transition off the bike and re-passed the one athlete who passed him. The Herndon injury lawyer even managed to pass several of the collegiate athletes during the run, with only one 20-year-old passing him. Giving full value the entire race, Landau managed to finish 19th out of over 450 finishers.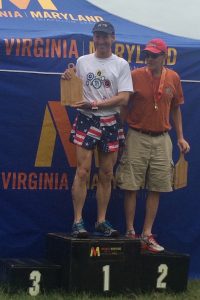 As the Virginia and Maryland Triathlon Super Series requires at least 5 race finishes in order to be eligible for Series awards, and Doug Landau has only 3 race finishes with only a few races remaining, and Half-Iron and Olympic distance races garner more points than the sprint races the disability counsel competes in, he not only must compete in the Watermans event, but also podium to get enough points to even make the top three positions. Lawyer Landau is currently in 8th position in his age group with the 3 races he has completed, while others have completed the necessary 5, and some even 10 or more !
Knowing he had to turn in a top performance, Landau managed to win his Age Group with a time that would have topped several other younger categories! Finishing the 1/2 mile swim in under 15 minutes, and averaging about 22 mph on the bike, Landau turned in a run in about 7:03/mile pace. Category winners received another useful VTS/MTS award: a cutting board! Landau looks for to next week's VTS/MTS season-ending race in Maryland. Stay tuned to see whether lawyer Landau can garner enough points in sprint races to again be the best triathlete in his category again in this year's Super Series standings.