Post- Race Celebration Aussie Style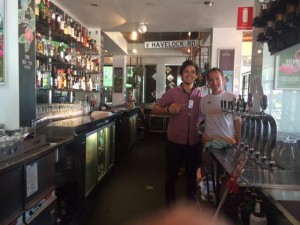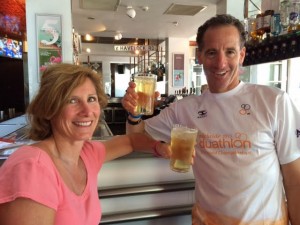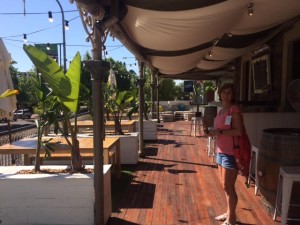 After competing against the best multi sport athletes in the world, Doug Landau went to the best pub in Adelaide in order to unwind.
The General Havelock Hotel is renowned throughout Southern Australia for the depth of its bar offerings and wide variety of foods.
Doug and Melissa Landau not only had the kangaroo appetizers, but also the schnitzel with chips (french fries) with Diane sauce, and the amazing sticky date pudding.
Plus, Manager Jay at the bar treated Lawyer Landau to several rounds of delicious Adelaide Hills cider.
Jay and Doug had met while the Aussie was traveling on the Amtrak Acela train from New York City to Washington DC with the Harvey family.  Landau had shared advice on what to do in our nation's capital, how to get there, and what to see with the Australian family.  In turn, they shared tips with the American lawyer on things he should do "Down Under" after the Duathlon World Championships.
All in all, it was a very worthwhile train ride!
If you are heading to Adelaide, The Landaus strongly recommend General Havelock Pub and Hotel for food, drink, or just a good time.