Duathlon ITU World Championships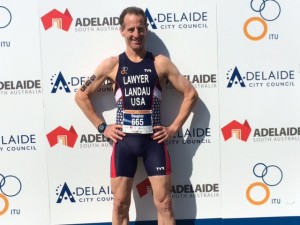 Competing against the best age group multisport athletes, Doug Landau made his World Championship debut over the weekend.
Starting in the very last heat of the Sprint distance event, Landau ran a strong and controlled opening run.
A quick transition lead to bike laps of 34 & 36 km/hr on a rented bike with his bell ringing for safety as he passed athletes from the 10 earlier heats ON THE RIGHT, unlike on the left as in the States.
Then another quick transition.
But then bilateral hamstring cramps caused Lawyer Landau to stop twice during the shorter 2nd run to try to stretch out the back of his seized up legs.
Only in the last 300 meters was he able to run at full speed. Coming in at 12th out of 30 finishers in his age group, Landau was not sore or tired after leaving the physiotherapy tent.
"It was a challenging course, with hills, turns, wind, and many athletes from earlier heats to pass. I predicted 70 minutes, and was a bit under despite the leg cramps. Not bad on a rented bike. It was a lovely day in Adelaide."
For complete results: https://tomatotiming.racetecresults.com/MyResults.aspx?CId=16&RId=28389&EId=11&AId=270589