Racing on a Rented Bicycle at the World Championships?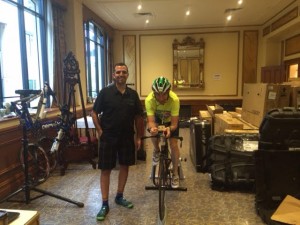 While Doug Landau leaves nothing to chance for triathlons, he opted not to ship his bicycle on the way to the land "down under". Rather, the Triathlon Trial Lawyer rented a bike from Raceday Transport
In this photo, Landau is shown testing out the bike for which he sent his measurements weeks earlier so that expert mechanics could ensure the proper fit.
In order to maximize safety, it was important to be fit with a bike having the same dimensions of the racing bike Landau uses back home in Virginia.
While lawyer Landau has raced on rented and borrowed bikes successfully in the past, this is his first foray at a ITU World Championship race.
The other advantage of renting wheels and frame is eliminating the stress of breaking down the bike, and shipping it across the world. Landau has utilized the services of Raceday Transport at the Duathlon Championships  and found their mechanics top notch and willing to help solve any safety issues that may arise before a race.