Culpeper Races Result in Smiling Faces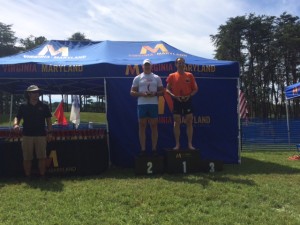 Culpeper Virginia's Mountain Run Lake Park was the venue for a quartet of popular endurance events. This past weekend's Gran Fondo, Olympic Distance, Sprint and Aquabike (swim, bike, but no running) benefitted several charities, including Special Operations Warrior Foundation.
The Special Operations Warrior Foundation provides scholarship grants, educational and family counseling to the surviving children of special operations personnel and financial assistance to severely wounded special operations personnel and their families.
The Culpeper Sprint began in 2005 to a sold out crowd. Doug Landau has competed in this race in the past, despite the fact that the warm water conditions meant wetsuits would not be allowed, and he would be starting with a greater than usual deficit when coming into the first transtion. The curved downhill run finish is popular with spectators, and the park's playgrounds make for a "family-friendly" venue.  Because of Greg Hawkin's and his staff's outstanding planning, hard work and friendly volunteers, the Culpeper races continued to grow. The numbers suggest that it is one of the most popular races in the Virginia Triathlon Series.
Doug Landau competed in the sprint race, which started with a 750 meter swim in Mountain Run Lake, followed by a 16 mile Culpeper County rural country road cycling circuit. The bicycle course had hills, turns, shade and was challenging with an uphill start after the swim. The 5 km run had several hills, but a half mile downhill finish back to the transition area and spectators. Lawyer Landau was able to win his age group again, with a time that was 16th overall and good enough to have been on the podium in every age group! The best part of his day was that once on "dry land," he passed other racers all the way to the finish line.  What's more, Landau was on a borrowed bicycle, as his race bike was already on its way to the National Championships.