South Carroll County Swim Club was the Venue for the Meals on Wheels Sprint Triathlon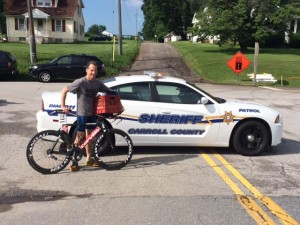 Isaac Moore and Doug Landau from Abrams Landau, Ltd. got up at the crack of dawn on Sunday, June 15, after tornadoes and storms pounded the area all night.
Participants were unsure whether or not this 7:00 am charity race would even take place. Luckily for the people at Racine MultiSports, the rain abated and the sun came out. In fact it was a glorious sunny day that greeted triathletes of all ages and sizes.  There were two pools ready for participants, who were allowed in the pool as prior athletes completed their laps in their own half lane.
Despite being unfamiliar with the bike course, Lawyer Landau managed a top 10 finish and an age group award, after a 400 meter pool swim, 14 mile hilly bike ride, and 5K run on Liberty Road. The race benefited Meals on Wheels of Central Maryland. Afterwards, Landau and Moore met with clients from Emmitsburg, closer to their homes, in Frederick, Maryland.  Landau often combines client meetings on "road trips" where he may also race, visit accident scenes and speak to witnesses. Since so many clients of the Herndon law firm ABRAMS LANDAU are disabled and cannot drive long distances, these 'home visits" and "road trips"  enable clients to have "face-to-face" visits when their injuries prevent safe travel to the Law Shop.