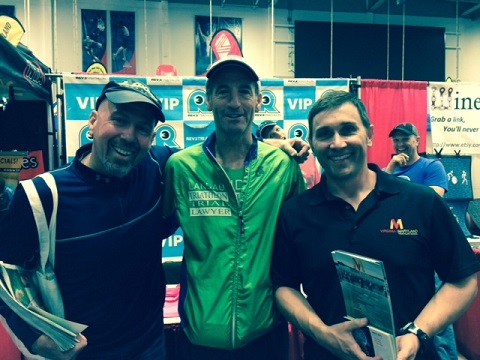 Athletes Lawyer Doug Landau Attends Washington DC Multisport Expo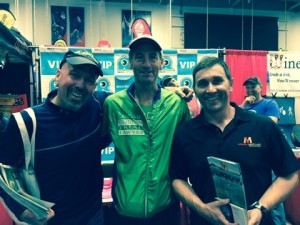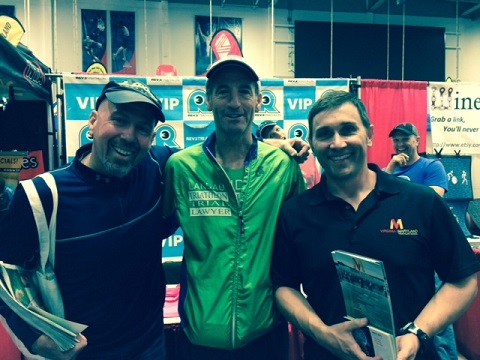 Constantly looking to improve his skills as both an advocate and an athlete, Oak Hill Virginia lawyer Doug Landau attended the 2015 Washington DC and Multisport Expo at American University. Attending lectures, networking, comparing notes with other athletes and lawyers, Landau says this is one of the highlights of the winter "off-season."
At the DC Multisport Expo, lawyer Landau complimented Neil Sandler on an exceptionally good issue of Spokes Magazine. Spokes Magazine is Landau's "go to" source for information regarding the mid-Atlantic biking, charity ride, century, and multi-sport event scene.
Neil Sandler, who does a great job not only with timely articles, engaging interviews, and timely coverage of cycling in multi-sport events, is also responsible for much of the excellent photography seen in this periodical. If you don't get Spokes Magazine, and do any cycling anywhere in the mid Atlantic states, make sure you get a subscription today.
Herndon Virginia injury lawyer Doug Landau has known Maryland Virginia Triathlon Super Series Director of Greg Hawkins for years. Landau has even hitched a ride home from the Jamestown Gran Fondo with the affable North Carolina resident.
When the Landaus met up with Hawkins at the Washington DC Multisport Expo, it was unclear whether they would be able to renew sponsorship of the VTS MTS Super series as the Herndon law firm ABRAMS LANDAU had committed to "putting lids on the kids" to prevent brain injury in children, and lawyer Landau would be out of the country this Fall.
The Northern Virginia biker lawyer will be representing the United States at the Duathlon World Championships in Australia in October.
Given the training requirements necessary for success at the championship level, Landau has planned to focus on racing well in the Sprint Duathlon & Triathlon Nationals this summer. This means he will not be racing nearly every weekend as has been his custom in past seasons. Because the VTS MTS Super Series requires at least 5 races to qualify for overall series awards, it is unlikely Landau will compete in the requisite number of events.
Lawyer Landau will do the occasional sprint or road race in order to test his training and speed, but the focus in 2015 will be on peaking for the big races. This strategy led to a gold medal in 2005 representing the USA in Israel. So now the question is, "will history repeat itself ?!!?"
Stay tuned…