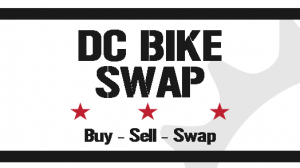 Looking for a new bike for the 2015 season?
Try out the D.C. Bike Swap on Sunday, May 17th from 10:00 am to 2:00 pm.  The swap is hosted by Gearin Up Bicycles – 314 Randolph Place, N.E., Washington, DC  20002. Gearin' Up Bicycles' purpose is to create career development opportunities and teach essential workplace skills to teenagers from underserved communities, while encouraging cycling as a practical, healthy means of transport. Gearin' Up provides access to quality, affordable, used bicycles for those in need and hosts various community outreach programs throughout the year.
What's at the SWAP? Hundreds (thousands?) of discounted cycling and fitness products, prizes, giveaways, special events and so much more. Get ready for the summer and pick up all your cycling needs at the DC Bike Swap!
Admission is a requested $5 CASH donation at the door.
Whether you're looking for road, mountain, triathlon, BMX, vintage, new or used, there's something for everyone!
For more details visit Gearin Up Bicycles Facebook page.