Rachel Carson Middle School Students Do it Again!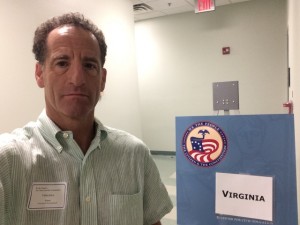 The students from Rachel Carson Middle School in Herndon, Virginia have done it again!  They placed in the final three of the national We the People competition held at George Mason University on Sunday, April 19, 2015.
Next up was the National Invitational at the Fair Oaks Marriott in Fairfax, Virginia on Monday April 20.
Placing in the top three heading into Monday's event meant the team could, at worst, come in third place at the National Invitational, meeting or exceeding their third-place Nationals finish in 2014.
During Sunday's competition, several of the judges commented on the students' outstanding prepared remarks as well as their ability to think on their feet and respond to questions from professors, lawyers, and government executives from all over the country.
Athletes lawyer Doug Landau (shown above) does not usually get nervous prior to a competition. However, you can see he was quite serious just before entering the university lecture hall at GMU on Sunday night.
Landau had spent the months leading up to the event helping the students prepare by coaching them on topics in constitutional law, as well as tactics on being formidable competitors against teams from all over the country.
"I have grown quite fond of these students, so I must admit I was a bit nervous on their behalf.  But their efforts have paid off yet again," says Landau.  "I am — and they should be too — very proud of their accomplishment."