Perfect Day for W&OD Trail 5K; Falls Church Virginia Race Showcases One of Northern Virginia Regional Park Authority's Best Assets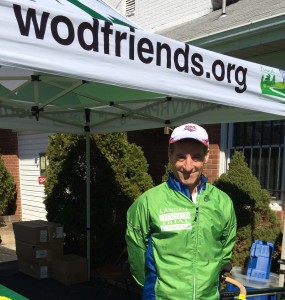 Joining other runners and walkers on a Sunday afternoon, Herndon Virginia lawyer Doug Landau enjoyed the sunshine and opportunity to run on the W&OD Trail in Falls Church. The Walter L. Mess W&OD Trail 5Km in Falls Church Virginia drew participants of all ages. The 7th annual race, held in memory of W&OD Trail founder Walter Mess, went off with runners crossing the Route 7/Leesburg Pike overpass (which almost counts as a "hill !"), turning around and passing the American Legion Hall starting area, then making another U-turn before returning to the finish line. It is one of the few running races (other than those held on airport runways, tracks or beaches) where you could see the competition nearly the entire way !
The event was generously hosted by American Legion Post #130, which is located right at the Trail, and the Northern Virginia Regional Park Authority. Having an indoor facility in which to change, stretch and eat was a bonus. Doug Landau was dropped off by his daughter and was able to win the 50-59 age group, finishing 12th overall. Though his time was unimpressive, it was his first local 5km in over 3 months, and he is preparing to run faster this coming weekend in Williamsburg.
After the W&OD 5km (3.1 mile) race, Lawyer Landau was even able to jog from the race site to the East Falls Church Metro Station and enjoy a ride on the Silver Line to the Reston Weihle Station. The Trail provided a safe route, away from cars and trucks, all the way to the subway station. The safety of the runners and walkers during the race was the result of the efforts of the W&OD Trail Patrol, Boy Scout Troops 349, 681, and 895, and the Falls Church Police. Another Northern Virginia Park Authority Trail event, "Friends of the W&OD 10K" in Vienna Virginia, Saturday, August 1, at 6:30 PM.
For complete information: www.safetyandhealthfoundation.org/friends