The Trial of a Great Athlete & Archer, Robin Hood — in Herndon, Virginia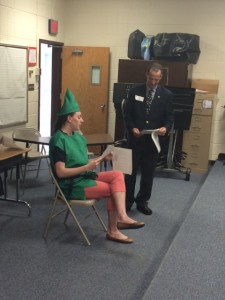 What famous athlete — a skilled archer and swordsman no less — recently stood trial in Herndon, Virginia on charges of assault and theft?
It was none other than Robin Hood, a.k.a. Robin of Loxley, being charged with with the very serious crimes of assault on the Sheriff of Nottingham and theft of the sheriff's jewels.
Mr. Hood was being defended by Herndon Trial Lawyer Doug Landau. Fairfax lawyer David Hirsch was counsel for the prosecution, and Judge O'Flaherty was in fact the judge.
Asked by the Fairfax Bar Association to volunteer his time teaching judicial process to students at Herndon's Clearview Elementary School, Landau thought a mock trial would be a great way to engage the students and teach them about Virginia's legal system.
Landau was able to adroitly show that the incriminating evidence of the arrow retrieved from the sheriff's cloak had the initials "RH," whereas his client's legal name was "RL" for "Robin of Loxley." Secondly, the rule of Nottingham is "finders keepers" and Robin "found" the box of jewels in the forest. Under Landau's cross examination, the sheriff, who was state's evidence, could not identify who actually shot the arrow, or even who of the Merry Men was running around the forest at midnight. Furthermore, Landau put Friar Tuck and Maid Marian on the witness stand, and they both testified that the jewels had belonged to the church, and were stolen by the sheriff. Therefore, Robin Hood cannot steal from the sheriff what was not the sheriff's property!
At the end of the trial, Judge O'Flaherty charged the jury, and instructed them that under Virginia law their verdict must be unanimous. If it is not unanimous it is "a hung jury".
Just like the students Landau has worked with at Rachel Carson Middle School in Herndon, these Crestview students took their jobs very seriously. The jury retired, selected the foreman, argued the facts, and returned with a unanimous verdict.
The result? Landau's client, Robin of Loxley, a.k.a. Robin Hood, was found not guilty of all charges!