Manassas Turkey Trot at George Mason University Prince William Campus a Big Hit Before a Big Meal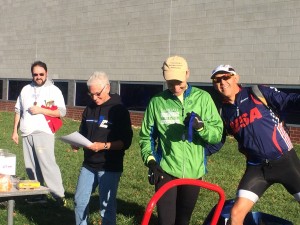 Not many Fall or Winter races in Virginia allow participants to warm up, stretch, cool down and shower afterwards. However, athletic events at the Freedom Aquatic and Fitness Center  are wonderful in that there is rarely traffic getting there and plenty of parking. Located at Freedom Center Blvd. in Manassas, just off University Drive, this is the George Mason University Prince William County campus. This 5km is part of the Fun Run Racing series.
The Freedom Aquatic & Fitness Center opened its facility so participants and spectators could stay 'warm' both pre and post race. Fun Run Racing paired with its charity partner for this race, the Manassas Bull Run Rotary Club. A portion of all race proceeds support the Rotary and the local charities they support. Using the campus on weekends makes use of a terrific facility.
Doug Landau of the Herndon law firm ABRAMS LANDAU liked the race logo, "Trot, Eat, Sleep." The Prince William 5k Turkey Trot and 1 Mile Fun Run/Walk had a costume component, with lots of turkeys, a few pilgrims and one woman decked out as an entire Thanksgiving table ! While lawyer Landau was "running" a little behind and spotted the field a wee head start, he nevertheless, averaged 6:59/mile. The Herndon lawyer was best in the age group and 54th out of 806 finishers. Click here for results. Afterwards, Landau was able to do a "cool down" swim and then shower, (with soap !) before hitting the road to enjoy Thanksgiving with family.