Louis Garneau Bike Helmet Recall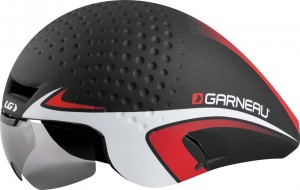 If you purchased the helmet shown to the left — or a similar one in color combinations white/blue/gray or white/silver/white — either online or at a bike shop nationwide between January 2014 and September 2014, you should immediately stop using it and return it to the company for refund or replacement.
The Louis Garneau P-09 aerodynamic helmet is model number 1405362.  This $280-350 helmet can be rendered ineffective in preventing injury from impact when worn in cold temperatures.
Athletes lawyer and cyclist Doug Landau uses Garneau products — both their helmets and shoes — and likes them very much.  However, some of the high end, "aero" helmets may not last as long as traditional bike head protection, and extremes of hot or cold weather can also affect their safety performance.
"I hope my fellow cyclists who have and use this helmet will see this recall notice BEFORE the cold temperatures of winter set in," notes Landau.  "Using defective sports safety equipment can be disastrous in the event of an accident."
If you have the affected product, contact the company:
By Phone:  800-448-1984 (M-F 8am-6pm ET)
By Email:  customerserviceusa@louisgarneau.us
Online: https://www.louisgarneau.com/us-en/
For more information visit the Consumer Product Safety Commission website.
If you or someone you know has been injured while using a defective sports product or equipment, and there are questions as to what laws apply, email or call Abrams Landau, Ltd. at once (703-796-9555).