Lawyer Landau Violates California Speed Limit – On Foot!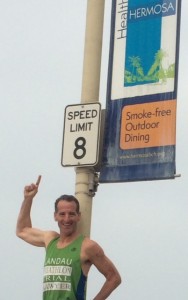 While previewing the race course for this past week's Hermosa Beach Sprint Triathlon, Virginia injury lawyer Doug Landau noted some peculiar signs all along the California's Pacific Coastal Highway ("PCH").
Doing his customary "scouting trip", so as to know where to go on race day, Landau parked his car below the PCH and rode a borrowed bike over the cycling and running courses.
The east coast triathlete trial lawyer was surprised to see signs stating a speed limit of 8 miles per hour!
Landau knew this was a 7:30 per mile pace on foot. The Herndon accident attorney has run a faster pace at every single race he has competed in during the 2014 multisport season. Concerned that the police might write him a ticket if he ran faster than the posted speed limit for bicycles, skateboards, rollerblades, etc., Landau checked with local police so as not to run afoul of southern California law.
The Dulles airport area lawyer was advised that police would not be ticketing athletes who ran faster than 8 miles an hour. Armed with that information, Landau ran sub seven minute miles to pass athletes the entire time he ran along the Pacific ocean.
However, Landau noted after the race he would have liked the speeding ticket for running faster than the posted speed limit. "It would've made for one heck of a souvenir,"  he joked.  "However, the finisher's medal, the podium, and the other swag were more than enough to make for a memorable day at the beach. Plus, I had my wife and daughter with me to enjoy the day in SoCal."