Health Club and Gym Safety – Maintenance and Consistency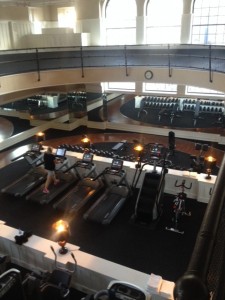 With the weather turning cooler, athletes and fitness buffs will be turning to indoor venues for their exercise.  Gyms and health clubs are places where health should be improved, not endangered. Yet when maintenance is not a priority, and equipment is not cared for properly &/or on a consistent basis, members' safety is put at great risk. Plus, the economics of the fitness industry tend to cause many gyms to devote employee resources to membership sales and personal training contracts.
Speaking with experts in the health club and fitness industry, Herndon Virginia injury lawyer Doug Landau has noted that many gyms:
keep exercise equipment past their useful lives,
do not repair or replace in a timely manner, or
do not have a consistent "sweep schedule" to reveal broken machinery, missing pieces, or "accidents waiting to happen."
Other clubs do not renew the maintenance policy with the equipment manufacturer, and then fail to provide their own in-house exercise equipment upkeep plan.
Having received a number of calls for injuries at gyms, Landau believes there should be minimum standards for all health clubs, gyms and exercise facilities and a national certifying body for those clubs that wish to commit to the safety of their members and staff.
Landau's grandfather Abrams (for whom the law firm is named) used to say, "you get what you pay for." So for those clubs which only cost a few dollars a month, consumers should make sure that they are not in bad shape with minimal staff, maintenance, and cleanliness.  Gym members should be on notice that their health are at risk when clubs are not operated with safety as a top priority. On the other hand, many people may not be aware of latent dangers that exist when exercise equipment is not properly cared for and staff is not aware of how to properly use sophisticated machines.  Still other gyms do not invest in the tools necessary to properly fix machines when they break down.
If you or someone you know has been injured due to poorly maintained fitness equipment at a gym or fitness center and there are questions as to what laws apply, email or call Abrams Landau, Ltd. at once (703-796-9555).