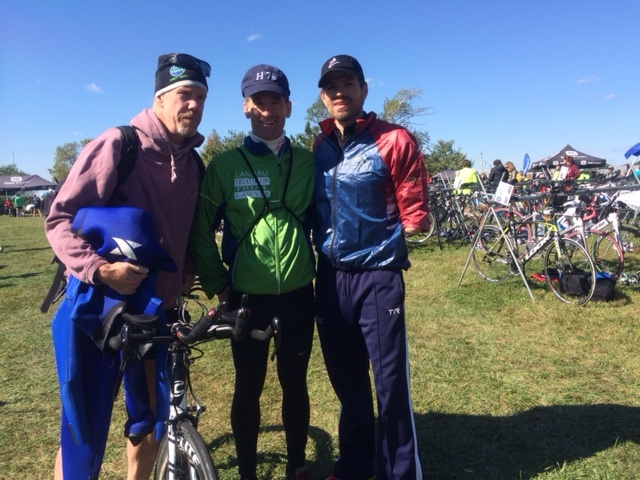 Landaus Race Watermans Rock Hall Maryland Sprint to End Mid-Atlantic Triathlon Season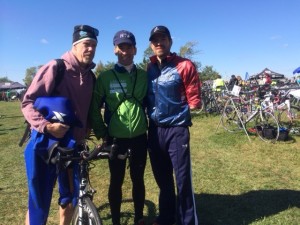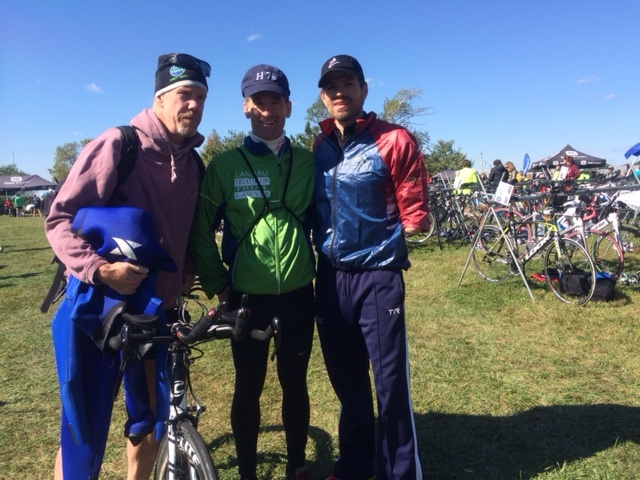 The final event of the now combined Virginia and Maryland Triathlon Super Series was this weekend's Watermans Rock Hall Sprint Triathlon.  Both Doug and Melissa Landau hoped to up their points in order to end the season as VTS/MTS age group prizewinners. Looking forward to competing in this laid back coastal town to the West of Annapolis, this Maryland Triathlon Series event featured a 750 Meter Swim, a flat 15 Mile Bike and then a 5K Run. Race morning greeted participants with cold, 40 degree blasts of wind and white caps on the swim course. The Kent County bike route was so windy that those cyclists with disc wheels were buffeted back and forth across the lanes. The sun came out and the temperature got a bit better better by the time the athletes hit the pancake flat, one loop run course.
Doug Landau managed to get out of the wavy  salt water swim in under 15 minutes and then blast through the first transition, for the 9th fastest T-1 of the day ! Breaking 40 minutes for the windy 15 mile bike ride, the Herndon injury lawyer went through the 2nd transition in under a minute despite having no feeling in his feet or fingers. Having difficulty getting his usual high running cadence going on frozen toes, lawyer Landau nevertheless managed to average 6:39/mile and finish in 1:17:06, to make the top 20.  This was good enough to win his age group for this race.  See tomorrow's post to find out how the Landaus did in the combined Super Series.
Waterman's Sprint Triathlon supports the Chesapeake Bay Foundation. The Foundation fights to keep the water we swim in clean. In order to experience the local "natural habitat," the Landau's also took advantage of the Triathlete Discount for great camping at Bayshore Campground. Bayshore Campground is located less than 3 miles from Main Street (the race venue) in Rock Hall, Maryland. Bayshore generous offered triathletes and their families and friends tent camping rates at only $20 per person per night! This friendly Kent County campground reserved their prime sites right on the Chesapeake Bay just for MTS triathletes. While it was windy and cold, the full moon and proximity to the Chesapeake made for a dramatic sunrise. "Imagine, a million dollar sunrise for only $20 a person !" noted Doug Landau. After the race, the Landaus and friends chowed down at Watermans Crab House, less than one hundred yards from the finish line to enjoy some fresh, delicious Chesapeake Bay seafood. This is definitely a race and a venue to put on your "triathlon to-do list."