Landau moves from "out of the money" to top 5 in the Virginia Maryland Super Series at Spotsylvania Sprint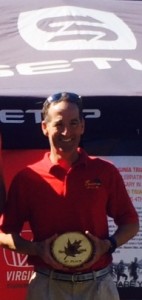 Returning to Lake Anna after a hiatus of many years, Doug Landau took on the Giant Acorn Sprint Triathlon. This was the last race of the 2014 Virginia Triathlon Series ("VTS") for lawyer Landau.
Sitting outside the top 5 spots in his age group a fortnight ago, the win at the cold, wet Savageman Triathlon put the Herndon lawyer bag in the mix. The top 5 in each age group may be eligible for awards in the new, combined "Virginia Maryland Super Series," as points earned in Virginia races can count toward the Maryland events, and vice versa. The multi-state race directors and Mid-Atlantic management at Set Up Events realized that many Washington, D.C. triathletes compete on both sides of the Potomac. By combining races that are in close proximity, athletes can accumulate the 5 races necessary to be considered for awards in this new series.
At the Acorn Sprint race, Landau swam wide to have a safe, controlled swim. The Herndon injury lawyer then had a fast transition and biked uphill to start reeling in the faster swimmers. Improving his position, he jumped off his bike and then was shocked to be passed on the first uphill by 5 collegiate athletes. Not used to being passed on "dry land," the presence of the college teams made for some humbling moments out on the race course. The many young racers also meant that even by finishing on the podium, Landau accumulated very few points toward his goal of capturing another VTS age group award.
Stay tuned, as his last race is this weekend in Rock Hall, Maryland at the Watermans Sprint race. While sprint races bring fewer points than Olympic Distance events, and Half Iron races convey even more points, Lawyer Landau is hoping for a top 20 finish and enough Virginia and Maryland Super Series points to lock in an Award to cap his 2014 racing season. Last year he did not compete in the Virginia or Maryland Series, but won the Virginia Duathlon Series instead en route to qualifying to represent the USA in the World Duathlon Championship in October of 2015 in Adelaide, Australia.