College Triathlon Teams Duke It Out at Williamsburg Virginia Race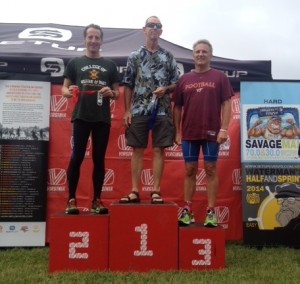 Triathlon teams from William & Mary, George Washington University, Georgetown, George Mason University, University of Virginia, James Madison University, Marymount, University of Maryland, Virginia Tech and other Mid-Atlantic region schools battled it out this weekend for bragging rights at the Virginia Triathlon Series Williamsburg Sprint Triathlon. "There were so many athletes with ages 18-24 on the back of their calves that I was beginning to feel like a dinosaur!" remarked Herndon Virginia injury lawyer Doug Landau.
The event was contested at Anniversary Park next to the Jamestown settlement the day after the Williamsburg Half Iron event. The race started with a 750 meter swim in the James River. The water is slightly brackish, with a current, and high temperatures meant no wet suits. Many taller athletes were able to run in the shallow water of the James River. Others employed the "dolphin technique" to get out and back to the beach more quickly.
Lawyer Landau found himself well back in the field, with a swim place of 190th. With another blistering run through the first transition, and a fast 20km bike split on the fast course along Route 5 in James City County, this VTS sponsor found himself passing college athletes. On the pancake flat 5K on an asphalt bike path lawyer Landau passed (& cheered on) more university triathletes to finish in just under 71 minutes to make it to another podium. With 3 VTS races under his belt, Landau is now in 11th place in his division out of 298 athletes, many of whom have completed more than the 5 races counted towards series points.
Once again Greg Hawkins and the Set Up Events crew did a terrific job. The heat, the 9 hour finish of some half iron athletes on Saturday, and the water conditions made for a long weekend for Jane Langford, Set Up Volunteer Coordinator and the race volunteers. This event benefits Special Operations Warrior Foundation. There were a number of military personnel participating in the race, and Landau ran with one young Marine who sported a tattoo on his back that read "grunt". The Special Operations Warrior Foundation provides full scholarship grants and educational and family counseling to the surviving children of special operations personnel who die in operational or training missions and immediate financial assistance to severely wounded special operations personnel and their families. This is definitely a race to put on your calendars for next year and it supports a terrific charity at a wonderful venue. Plus, you can come a day early and visit Historic Jamestown, Yorktown and Colonial Williamsburg and get a fantastic dose of early American history !