Mad Dash Rhinebeck Races Celebrate Labor Day & Local Charities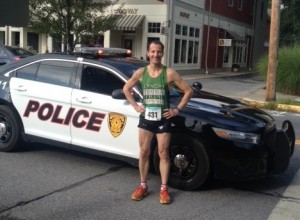 The Mad Dash 5K , 10K & Mini Dashes are an annual tradition in Rhinebeck New York.  They start on the main street of the town, had accurate mile markers and the 3.1 miler followed a mostly shady "out & back" course (so athletes could see their competition at the turnaround).
These charity races, founded in 1988 are sponsored by the Church of the Messiah in town. Unlike most "charity events," 100% of the proceeds go to support local charities. The proceeds from the Mad Dash have helped fund countless local charitable organizations such as The Messiah Food Pantry, multiple homeless shelters, AIDS related community services, WIC, Community Coalition for Rhinebeck Youth, Dutchess County SPCA and many more. Last year, the Mad Dash hosted over 700 runners and walkers of all kinds and raised over $14,000 !
The courses cover rolling hills and beautiful scenery on a paved road. With assistance from the MidHudson Road Runners Club ("MHRRC") these popular local events benefitted from a sunny morning and community support.  There were plenty of police and volunteers on hand to help ensure a safe race, though there were a few runners who could not hear because of headphones and others who ran on the wrong side of the road, despite directions to stay to the right on this :out and back" running course.  Driving over from Sharon Connecticut, Doug Landau managed to crack the top 20. Averaging under 7 minutes per mile and finishing 18th out of 270 finishers in the 5km, lawyer Landau copped another 50-60 ager group award. Click here for full results.