Marine Corps Marathon Series Quantico Triathlon Conducted with Military Precision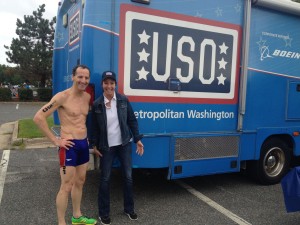 "When a race takes place wholly on a military base, you know you are going to start on time and no motorists would dare run a stop sign !" observed Herndon trial lawyer Doug Landau at yesterday's Marine Corps Triathlon at Quantico. With over 460 registrants, the Marines and volunteers showed that last year's inaugural race success was no fluke.
The Quantico Tri began with a 400-yard swim in the Quantico base's pristine 50M outdoor pool. Starting every 10 seconds, and snaking their way across the pool, after athletes completed 16 lengths they ran to the bike transition area. The 8 mile out-and-back cycle tour of the main side of the Marine base featured one hill to the turnaround point. After racking bikes, triathletes continued on to complete a 5K run that went by the soccer fields where lawyer Landau's kids had played soccer tournaments in the past. This distance is similar to the three-mile event every Marine must complete annually as part of the Marine Corps physical fitness test. There were "wounded warriors" team members competing with their prosthetics; other veterans utilizing recumbent bicycles and still other athletes who were more comfortable on mountain and hybrid bicycles. Fast swimmers were seen using dolphin kicking off the wall before beginning their freestyle, breaststroking and even keeping an eye on the competition backstroking !
As this was not a USAT sanctioned race, many standard rules were not announced or followed. While the helmet and no riding within the transition area rules were in effect, others were not. Some athletes had water-proof headphones/iPods, others did not wear the mandatory race or age numbers, and still others cycled in the middle of the road. There were no mile markers on the bike or run courses, though there were plenty of spirited volunteers. Next year's event could be further improved by reminding athletes of several safety rules, including:
passing on the left on the bike
calling out or giving some other verbal warning when overtaking on the bike course
not slowing or stopping at narrow "choke points" during transitions
allowing passing at the ends of the lanes during the swim
"tapping" before passing in the pool
While finishing a minute faster than last year, and crossing the finish line in 9th place, when the final results were tallied, lawyer Landau managed 6th place overall. The Herndon Reston area multisport athlete and injury lawyer was the fastest Grand Master and easily won his age group again this year. Landau started in 53rd position, and was only passed by one athlete once on dry land. His good friend, and Set Up Events volunteer coordinator Jane Langford, was the overall woman's winner. For full results, click here.