Group Training Rides for New Cyclists in Reston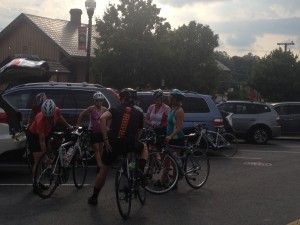 This past June, Reston Bicycle Club started conducting Group Training Rides.
Held on Sundays, these organized rides are intended to educate novice to intermediate riders on group riding techniques, formation and signals. This past weekend's Reston Century rides took bikers on three of the routes past the ABRAMS LANDAU law shop in Herndon, Virginia.  "I hope that all the street construction and steel plate placement did not create any unnecessary hazards for cyclists traveling through the Old Town Historic District of Herndon.  With Great Harvest Bread Bakery, Dairy Queen and other scrumptious stops located within sight of the W&OD Bike Trail, perhaps riders who did not know about the Town's offerings got off their saddles and sampled some of "the taste of Herndon!"
"For someone new to cycling, or someone looking to brush up on his or her technique, a group training ride is a great way to acclimate a cyclist to biking.  Being comfortable on a bike, negotiating turns and hills, understanding how to ride as part of a group, knowing appropriate signals, and getting practice in a non-stressful setting are important steps along the path to safe cycling," notes lawyer and avid cyclist Doug Landau of the Herndon law firm Abrams Landau, Ltd.
Landau is an advocate for bike safety for riders of all ages, and promotes safe cycling and helmet usage through his "Helmet a Day" campaign, participation on panel discussions in the biking community, and insistence on safety during his own rides.  He always performs a pre-ride checkup on his bike, wears the appropriate clothing and head protection, and uses a bell on his bike to alert other bikers of his passing.
For more information on Reston Bike Club, including ride schedules, visit their website.