Chestnut Forks Annual Sprint Triathlon in Warrenton Virginia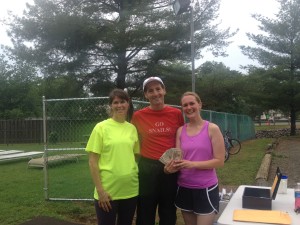 Registration opened on May 1 for the 2nd Annual Chestnut Forks Sprint Triathlon, to be held in Warrenton, Virginia.  Last year's race was decided by a mere 6 seconds!  Herndon injury lawyer Doug Landau enjoyed participating in the inaugural event at Chestnut Forks and you can read about it here.
Like the 2013 race, this year's triathlon benefits a great cause, Northern Virginia Therapeutic Riding Program (NVTRP).  NVTRP is a non-profit organization dedicated to enriching the lives of children and adults with disabilities, at-risk youth, and veterans, through the sport of horseback riding.
This year's race will again consist of
400 meter swim at Chestnut Forks Pool
12.6 miles of cycling through Warrenton's beautiful countryside
5K run winding through Warrenton Lakes
The date is Sunday, June 22, 2014.
Click here for more information.