Race Around the Lake Had ALMOST Everything for Everyone !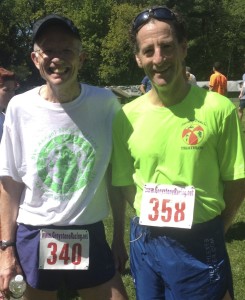 Except for any flat stretch of road or path. Run on the roads and trails around West Hill Lake and the Boy Scouts Camp, the 13th Annual Race Around the Lake 3.5 Mile Run Around West Hill Pond had sun shade, paved roads, dirt trails, uphills and downhills. "What it did not have was any long stretch of flat on which one could gauge their pace !" exclaimed Litchfield County Road Runner Doug Landau.
Contested this past Sunday, participants started at Brodie Park, West Hill Pond, New Hartford, Connecticut. You can see from the photo at the start, that race conditions were optimum: sunny, dry, calm , temperatures in the mid 60's for the over 230 starters.
Cracking the top 20, Sharon CT injury lawyer Doug Landau finished in just under 26 minutes, for about seven and a half minutes per mile average. Just missing the Age Group title by 4 seconds, lawyer Landau noted that he had given a good effort, but was still getting passed on the steep uphill sections of the course. The Race timing was by the always affable and professional folks of Greystone Electronics (860) 485-1991 who had results posted every 5 minutes, lead by Landau's friend Will Graustein. Jopining Landau in this challenging event was his long-time friend (and Hartford Track Club President), Peter Hawley, who own the 60-69 division by over a minute). For complete results, click here.  Look for the Landaus to participate in other Greystone Racing events in the NorthWest Corner of Connecticut this summer.