Barefoot Running Shoe Company Vibram Settles Lawsuit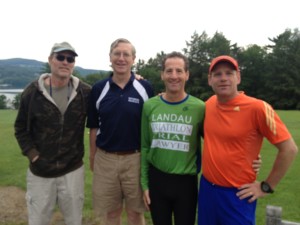 "Barefoot running shoes" have been all the rage in the running community.  These odd-looking shoes, which came out several years ago, were touted as the next best thing for athletes who prefer to run barefoot, activate the small muscles in their feet or for those who wish to reap the health benefits of doing so.  Herndon lawyer Doug Landau, himself a runner and triathlete, enjoys running barefoot on sand, turf and grass. Lawyer Landau was one of the more than 70 million Americans who purchased a pair based upon the manufacturer's representations and suppliers' advertising. He used them for running on softer surfaces when he was unsure of the safety of the terrain, such as when running on Miami Beach or participating in white water rafting, canoeing or other water sports where there are sharp rocks, coral or stinging fish.
In March of 2012, a class action lawsuit was filed by Valerie Bezdek against the shoes' manufacturer, Vibram, claiming the company used deceptive marketing and falsely advertised the health benefits of wearing its shoes.  Bezdek said the company enticed customers like her to buy the shoes by making false claims, when in fact, running barefoot exposes a runner to a whole host of other risks.
Vibram Settles
Vibram settled the case for $3.75 million.  The settlement arrangement has two parts to it:
Customers who purchased the shoes after March 2009 can get a partial refund
Vibram is prohibited from making future claims about the health benefits of its shoes
False Claims Deceive Customers
Landau notes, "This case is not about whether or not the shoes provide health benefits to runners.  The jury is still out on that.  The case is about the obligation of the manufacturer to not make claims about health benefits that cannot be backed up by reliable scientific evidence.  It is not ok for a company to profit by deceiving its customers.