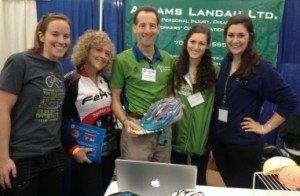 While teaching at the DC Tri-Mania Summit and Expo at Georgetown Preparatory School in Bethesda Maryland, lawyer Doug Landau had occasion to meet Katie Lupo (pictured left), of Gearin' Up Bicycles in Washington, DC.
Gearin' Up Bicycles' Mission
Katie is a delightful young woman who is passionate about her cause — Gearin' Up Bicycles.  A 501(c)(3) non-profit charitable organization, Gearin' Up Bicycles' purpose is to create career development opportunities and teach essential workplace skills to teenagers from underserved communities, while encouraging cycling as a practical, healthy means of transportation. Gearin' Up provides access to quality, affordable, used bicycles for those in need and hosts various community outreach programs throughout the year.
In a nutshell, Katie and her crew collect used bikes to repair and sell in a community used bike store.  The sales people selling the bikes and the mechanics repairing them are teens from underserved communities.  This is a great approach to teaching at-risk youngsters important life skills, while also encouraging the use of bicycles as a means of transportation.
Donate to Gearin' Up Bicycles
Being an avid advocate for bike safety, Landau was especially interested to learn that Gearin' Up Bicycles is looking for donations of helmets in addition to bikes!  The organization is also in need of other donations and has created a Wish List on its website.  Please take a moment to visit the site and consider making a donation to this wonderful cause!