Second By A Second ! Winchester Apple Blossom Age Group Win Eludes Lawyer Landau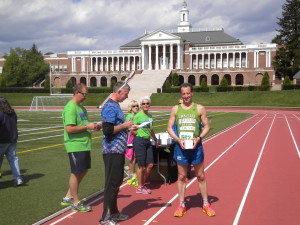 "Should have leaned at the tape," is what Doug Landau's sister said after her oldest brother missed the top honors in the age group by less than a second at this year's Winchester Apple Blossom 10km. The AG first prize went to a runner from Breckenridge, Colorado: Jim Curcio. Both Landau & Curcio averaged under 7 minutes/mile for the undulating course.
The 33rd running of the Apple Blossom 10K race attracted more than 1,500 participants. The race course, which covers some of the route of the Apple Blossom parade, is certified by USA Track and Field. Starting and finishing at John Handley High School, it winds through the streets of Winchester. As in years past, the Landaus stayed for the Grand Feature Parade, the East Coast's biggest and best parade.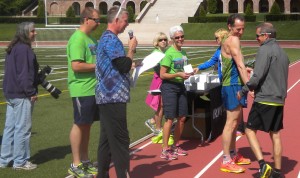 The winner broke 29 minutes (averaging less than 4:50 per mile !), as there were several thousands of dollars in prize money. Herndon multisport athlete and attorney Doug Landau wishes that prize money was not offered, as it brings out of state "mercenaries" – professional road racers who take the money and run. They do not ever seem to stay for the parade, where there is a special car or foot to honor them for their achievements. Landau promises that if he ever wins the overall prize, he WILL stay for the parade, ride in the winners' car, and even perform for the judges in the reviewing stand !
While lawyer Landau was 2nd out of 66 in his category and 97th out of 1,469 finishers, he would have liked to have run 2 seconds faster ! The Winchester Apple Blossom Festival 10 km. is a terrific, family friendly event.  The Landaus have participated in the race and stayed for the parade and other festivities many times over the last 3 decades. Click here for complete race results