Fun at Fort Hunt Park DC Road Runners Race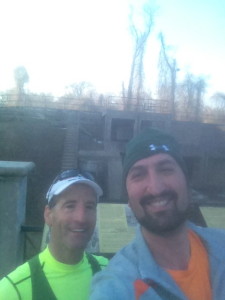 About one hundred brave souls got up early thanks to daylight savings time to compete in the DC Road Runners Club's ("DCRRC") end of winter 10 km race. The DCRRC Fort Hunt 10K is a race that is held on a course just off the George Washington Parkway, several miles South of Old Town Alexandria and just North of Mount Vernon. The certified course consists of about 5 laps around the paved perimeter road of Fort Hunt Park. There are no big hills on the course, but each lap does have some little ups and downs. The redundant nature of the course has some benefits: the dance to run even splits, not get lost, toss your hat, gloves or other extra clothing near your car, 6 water stops (actually one water stop that is passed 6 times), and the opportunity for spectators, groupies and paparazzi to stay in one place and cheer for their favorite racers as they pass by multiple times!
Herndon injury lawyer Doug Landau had an office on King Street in Old Town for about 8 years. He used to run the GW Parkway weekly, year round. Lawyer Landau has competed in the Fort Hunt Park race several times, and looks forward to trying to get even splits on the relatively easy, bucolic course. This year he gave the field a 30 second head start, so as not to take off too fast with the "jackrabbits." Instead, holding to a steady pace of 6:30-6:40/mile, the DC area running lawyer managed to finish 10th overall. Pleased with his controlled run, Landau looks forward to perhaps breaking 20 minutes in future 5 km. running races and copping some Age Group, Masters and overall prizes in Sprint Triathlons, DUathlons and other multisport events.