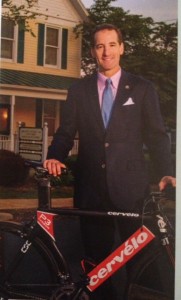 A recall notice for Cervélo bikes caught the eye of Virginia athletes lawyer Doug Landau because, an avid cyclist himself, he rides Cervélo!  In fact, in the Washington Post's "Washington DC & Baltimore's TOP RATED LAWYERS," Landau is depicted in front of the "Herndon Law Shop" with his trusted Cervelo P3 Carbon triathlon racing bike.  Having won many awards with this bicycle, and being the 2013 Virginia Duathlon Series champion, Landau finds that these bikes are well made and last when regularly cleaned and professionally maintained.
The recalled model is the P5 bicycle with 3T Aduro aero handlebars, model years 2012 and 2013.  Lucky for Landau, his is an older model!
The forward extension mounts on the recalled P5 can detach from the base bar while riding causing the rider to lose control, posing a risk of injury.  The risk is not inconsequential, and at least 28 incidents have been reported, including one involving a broken collar bone.
If you purchased one of these Cervélo bikes between May 2012 and August 2013 (at the steep price of $7,000 to $10,000), you should immediately stop using it and contact the manufacturer, 3T Design:
by phone:  Aduro Recall Hotline toll-free at (855) 225-7226 from 10 a.m. to 6 p.m. ET Monday through Friday
online:  www.3tcycling.com and click on Aduro Recall for more information.
Click here for more detailed information.
If you or someone you know has been injured while using a defective bicycle or other sporting equipment and there are questions as to what laws apply, email or call Abrams Landau, Ltd. at once (703-796-9555).