Protecting Pitchers from Concussions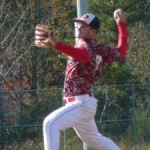 The word concussion is everywhere lately.   From former football players suing the National Football League (NFL) for hiding the dangers of concussion, to concussions sustained by other professional athletes, local youth athletes, and even our own Doug Landau — concussions seem to be more prevalent than ever.
Baseball players — particularly pitchers — are in danger of being struck by a line drive every time an opponent comes up to the plate.
Yet, typically, only catchers and batters wear protective helmets during baseball games.
Protective cap inserts made of Kevlar are available.  Kevlar is the same lightweight material used in body armor for the military and can help reduce the severity of a head injury.
But professional players consistently reject wearing protective inserts in their caps because they are not comfortable.  Common complaints are the inserts don't sit right on the head or they come over the head or face — even just a little bit — and distract the player. In tomorrow's post we will look at this issue further.
Even those players who have themselves been hit in the head by line drives will not agree to wear protective gear.
Athletes' lawyer Doug Landau understands an athlete's insistence on comfort.  A player that feels "off" or uncomfortable in any way will not be at his or her best.  But, always leaning towards safety over all else, Lawyer Landau is all in favor of Kevlar head protection.  "If it is a matter of comfort, then the designers and engineers need to keep working to make a product that is comfortable for the players, yet provides protection.  Our brains are too important!" says Doug.  The Herndon injury lawyer agrees with the safety and design engineering principles that any risk of serious injury or death is always unreasonable and unacceptable if reasonable accident prevention measures would eliminate or minimize the risk.
That is why Landau and his firm Abrams Landau, Ltd. donate free bike helmets to hundreds of needy schoolchildren each year in the firm's "Helmet a Day" campaign (read more).  That is also why Landau is a frequent speaker and participant at bike safety events like last month's Fairfax Bike Summit.  Modeling and teaching brain safety is critical in the quest to prevent traumatic brain injury.
Now if we can just get the baseball guys to come on board too!
If you or someone you know has been injured while participating in a sport and there are questions as to what laws apply, email or call Abrams Landau, Ltd. at once (703-796-9555).