A Win But No Wine for Lawyer Landau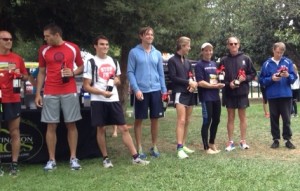 In order to improve his "over distance" for the DUathlon National Championships. Herndon injury lawyer Doug Landau entered the Valley of the Moon Vintage Festival 12km road race. As Landau had only run his first 10km 3 weeks earlier at the Reston Triathlon, his fitness to run 2 strong 5kms in Arizona at the end of October was in question. By competing in the 12km, the Triathlon Trial Lawyer could gauge his fitness as the multisport season draws to a close. The rolling course put runners through Sonoma vineyards and wineries. While this was the 117th year of the Moon Vintage Festival, this was the inaugural foot race. Melissa Landau and Ensign Zachary Landau, USN, also took part in the 12km race, as Zach is a second year medical student on Mare Island, in nearby Vallejo. The Landaus were in North California for an American Association for Justice ("AAJ") continuing legal education program in Napa.
Lawyer Landau managed to finish first in the over 50 age group in a time of 50:55. Averaging under 7 minutes per mile, the Herndon trial lawyer was 13th out of 213 racers. All winners received a bottle of wine. However, as Landau has forsaken alcohol, ice cream and soft drinks until after the National Championships, his son happily took custody of the prize! Zach finished in 57:13 (7:41/mile) for 4th in his division, while Melissa Landau managed 3rd place in her division, with a total time of 1:10:21 (9:27/mile pace). In addition to a 5 km., which was completed by fellow medical student Marian August, USArmy, there was an extensive expo, terrific food provided by local restaurants and live music. Another unique event was the Sunday "Grape Stampede" grape stomp competition for runners and weekend wine tasting on the plaza. For full race results, click here.