Bike Helmets as Fashion Statements?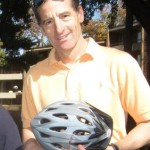 Herndon bike safety lawyer and avid cyclist Doug Landau does not mince words when it comes to bike safety.
"Bike helmets save lives.  Period," says Doug.  "Why anyone would ride a bike — or get on a skateboard, rollerblade, longboard, etc., for that matter — without protecting their brain from traumatic brain injury (TBI) is a mystery to me."
Maybe for some riders, the "cool factor" (or lack thereof) dissuades them from donning a helmet.
A recent article in the New York Times suggests that, at least for some fashionistas, the options for helmets that are "cool" as well as functional may be expanding.
Lawyer Landau does not care what the helmet looks like, as long as it fits properly and is designed to protect the head and brain in the event of an accident.  And, if the life of one person who would not dare to be seen in a plain helmet is saved because he or she was wearing a designer helmet in an accident, then that is a good thing!
What do you think?
If you or someone you know has been involved in an accident and there are questions as to what laws apply, email or call Abrams Landau, Ltd. at once (703-796-9555).