Aid to Victims in Haiti: Landau beats Landau !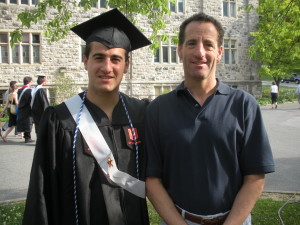 In response to the devastating earthquake that struck Haiti in 2010, Potomac River Running organized the Run for Haiti 5K and Fun Run. With the support of the community, Potomac River Running was able to donate all proceeds to the Red Cross to support the thousands needing medical treatment and basic supplies. Today, Haiti has made profound strides in recovering from the disaster. For 2012, our friends at Potomac River Running have selected Shalom Village to benefit from the proceeds of the race.
Doug Landau again participated, and this time his son ran for a chance at "family bragging rights." Zach Landau had run cross country at Oakton High School and Track at the Hotchkiss School, and he has been training in advance of starting medical school this summer. The Run for Haiti 5k starts and finishes on the South Lakes High School track and is part of the competitive =PR= Race Series. As a former "jogging stroller" pusher of 1, 2 and even 3 kids, Landau was pleased to see that this race is stroller friendly (including the fun run, too). The curvy, undulating course on the Reston paths made for a challenging event. Though the Triathlon Trial Lawyer managed to finish 3rd in his age group in under 21 minutes, his son garnered top prize in his category ! While the jury is still out on who is "top dog," Landau anticipates the fact that his son will soon be passing him in future races to benefit charities, victims and worthy causes. Soon he may not be the best road racer in the family, though he still may be the best lawyer.