Four Courts Four Miler Has Its Ups & Downs
On the way home from a Social Security Disability trial in Washington, D.C., Herndon Triathlon Trial Lawyer Doug Landau made a detour near the Arlington Courthouse. Lawyer Landau was not filing legal papers or visiting another injury or disability lawyer. He made a 5 minute "pit stop" in order to pick up his race packet at the Clarendon Pacers Store in order to participate in the unique "Four Courts Four Miler" running race on Saturday.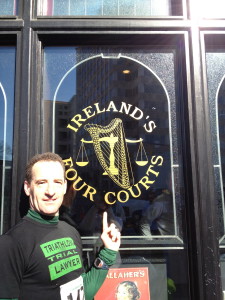 In celebration of the upcoming St. Patrick's Day holiday, the race features many runners, including Landau, dressed in green, a Leprechaun, bagpipes and a street party afterwards in front of Ireland's Four Courts Pub. Landau, who has been known to dress in green when going to court (and even signing pleadings in green) during St. Patricks week, was keen to sign up for this fun event. The course was also unique in that the first 2 miles were mostly downhill, with the return trip a challenging uphill route.
Landau was particularly impressed with the safety precautions. Because of dangerous metal grating on a steep decline part of the run course, the Pacers Team had an announcer calling out warnings, as a foot could get caught in the metal latticework. Runners really appreciated the "heads up," as athlete safety is as important as fast times and large fields. In only its 3rd year, the Four Courts Four Miler was a jolly good time. While Landau finished out of the prize money (5th in his age drop with a 12:30 opening 2 miles, finishing in 27:36), he really appreciated running on the I-66 ramp, Mount Vernon Parkway and hills of Arlington, Virginia. The beneficiary of all this good fun was the Arlington County Police Benevolent Fund. So, a good cause and a good course.