Sleep Awareness Week: Well-Rested Lawyer Helps Sleep-Deprived Claimants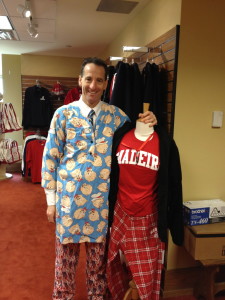 When Herndon disability lawyer Doug Landau meets with new clients, he tells them one of the reasons he shares all important documents, records and correspondence that comes into and out of the Landau Law Shop is so that they will know what is (and is not) happening in their accident, workers compensation and Social Security cases. Lawyer Landau also tells clients and their families that this also enables him to sleep well at night, because if the ABRAMS LANDAU buildings in Herndon ever burned down and the computer systems all failed, he knows that his clients have almost complete files ! The combination of exercise, healthy diet, thorough preparation of cases for court and the knowledge that clients are informed and have all important documents enable Landau to sleep like a stone. Just ask his wife !
Landau went from a successful trial in Washington DC to visit his daughter at her high school and to celebrate the culmination of "Sleep Awareness Week." According to the Sleep Foundation's web site, "National Sleep Awareness Week, which takes place March 5-11, 2012, is an annual public education and awareness campaign to promote the importance of sleep. The week begins with the announcement of the National Sleep Foundation's Sleep in America poll results and ends with the clock change to Daylight Saving Time, where Americans lose one hour of sleep. The Foundation's Sleep Care Center members host events in their local communities throughout the week, providing sleep education and screening to the public."
Sleep deprivation is an important issue at ABRAMS LANDAU, as many of the Herndon law firm's Social Security clients do not get a full night's restful sleep, because of pain, medication needs, the inability to lay down, etc. When disability lawyer Landau's clients do not get adequate sleep, their ability to concentrate is often impaired, their memory is affected and they often must take unscheduled breaks during the day to rest. These facts enable Social Security lawyer Landau to prove that his clients would not be able to hold a regular, full time job, even if it was sedentary (sitting), unskilled and required no heavy lifting. In other words, sleep (or the lack thereof) can be very important in a Social Security Disability case. If you or someone you know or care for is disabled an needs help with getting their Social Security Disability benefits e-mail or call us at ABRAMS LANDAU, Ltd. (703-796-9555) at once.