Top Trial Lawyers Take on "Wheels of Justice" High Desert Challenge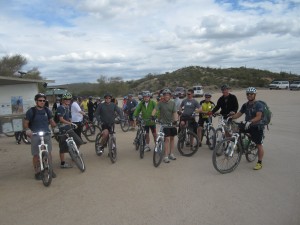 Not content to site on their butts during the Association for Justice ("AAJ") Winter meeting, over 50 top trial lawyers mounted off road bikes and headed into the Arizona high desert for the first annual "Wheels of Justice" ride. While the AAJ Continuing Legal Education seminars and presentations are inspiring, wheeling through the desert enabled the lawyers and their families to get an education and experience of a different kind.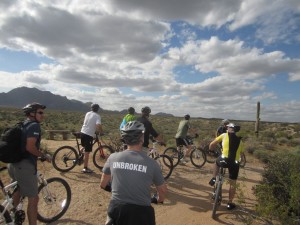 As I had only ridden my own mountain bike on roads, in triathlons or the W&OD Trail's cinder horse path, I was nervous about jumping "water logs", catching cacti needles or crashing. However, thanks to the experienced Arizona Outback Adventure ("AOA")
guides, everyone had a wonderful time. AOA provided well-maintained mountain bikes, gloves, water, cages, friendly, experienced guides and, near and dear to the Triathlon Trial Lawyer's heart (and head !), helmets for everyone.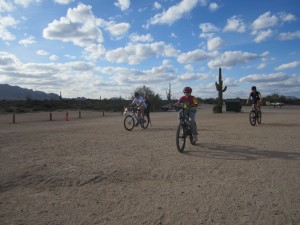 There were thrills, and spills, but only minor casualties. The bike ride, sponsored by the Stratton Faxon law firm should become an annual event. The AAJ Bicycle Litigation Group has had road bike tours at past Conventions in San Francisco, Maui, and those rides also provided top injury lawyers from all over the country to network, learn from each other outside of the classroom. The Connecticut trial law firm arranged for an exceptional time for everyone, and considering that personal injury lawyers file "Complaints" in court every day, that is high praise for the High Desert Bike Challenge indeed ! Perhaps I will even get to ride with Michael Stratton and other lawyers from the New England trial law firm team when next I am up in Litchfield County.