Team Tri Performance Trifecta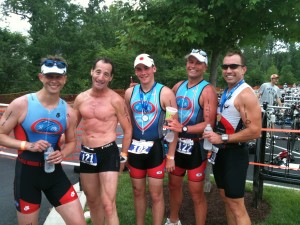 While managing to chase down racers through the transition areas, bike course and running paths, Herndon injury lawyer Doug Landau was not able to catch three Team Tri Performance members at the Infinitive Sprint Triathlon at Broadlands today. Race Director Brian Crow once again put on a quality event, which included the Broadlands 50 meter competition pool and plenty of friendly volunteers and a chalked running course. Eventual race winner (and former training partner) Doug "Man-o" Steele had the best pool start and kept the pressure on during the 2-loop bike section of the triathlon. Following Steele was the father and son combination of McAllister.
Broadlands injury lawyer Landau was close behind, but his 4th place finish across the line held up as the top 4 stayed in that order for the awards. "I dug myself into a hole behind Doug by not swimming more aggressively. Passing people once I got on dry land, I thought I could make up the deficit. Next time, I'll try not to give the fast swimmers such a big head start !" Landau easily won his age group, and continues to rack up "top 10" finishes, primarily by dint of hard work on the bike. Despite averaging 22.4 miles per hour over the hilly cycling route, the Loudoun County injury and accident lawyer still had enough legs to run 6:44/mile over the curvy running course.
Landau has finished between 4th & 8th his last 6 races, and he hopes to be in top condition by the time of the USAT National Age Group Championships in August. The Triathlon Trial Lawyer has a race "double header" next weekend, taking on the "Lawyers Have Heart" 10 km in Georgetown, Washington, D.C. on Saturday and then the DC Splash and Dash (a swim-run duathlon) at the Martin Luther King Aquatic Center in Maryland on Sunday. For additional information as to the Herndon Law Firm trial lawyer's schedule of races, cases, seminars and travels, please call 703-796-9555 or e-mail us.