National Road Running League formed by Washington DC Running Coach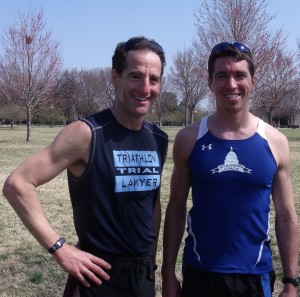 The National Road Running League (NRRL) has been formed to give runners in Maryland, Virginia and the District of Columbia area a way to compete over the course of several local races in a team scoring format. Triathlon Trial Lawyer Doug Landau attended the "pre-launch" event at Lulu Lemon in Georgetown after running in the Jingle Bell 10km. There were representatives from the major running shoes stores, top runners, university clubs, road running clubs and other sports enthusiasts. According to DC Running Coach Michael Hamberger, this is only running league in the country geared toward team competition across states. Visit the NRRL website and be sure to watch the introduction video on the home page.
In 2011 the NRRL will only have 1 region competing in the U.S.; the Washington, DC metro area. The DC area was recently ranked as the fittest city in the country for the 3rd straight year by the American College of Sports Medicine ("ACSM"). Hamberger intends to grow the league until every city, town, or region in the country can be represented and a true "meet of champions" can take place each Fall. The primary goal of the NRRL is to provide runners with a competitive outlet unlike anything to come before it, so that the team element of running can be put back into the sport. This league is for everyone, not just the "elites." While there are "elite" male and female team divisions, there are also "weekend warrior" categories as well. So check it out, put together a team (or join an existing group) and get ready to race !