Free WABA Membership for Law Enforcement Officers on Bikes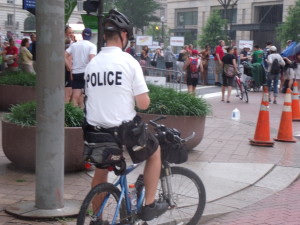 As part of the Washington Area Bicyclist Associations ongoing efforts to improve roadways safety and build relationshis with the law enforcement officers responsible for helping to enforce traffic laws in Virginia, Maryland and the District of Columbia, the WABA has begin offering free memberships. Any law enforcement officer in the DC Metropolitan area who rides a bike as part of his or her duties is eligible. The WABA is encouraging members to reach out to local police ion the community. It's simple: if they ride a bicycle as part of their job they qualify for free membership.
As WABA members frequently interact with local police on a number of matters, from roadway safety, and enforcement concerns, to special events, information seeking after crashes and near misses. WABA members recognize the life-and-death importance that enforcement of traffic laws can have for cyclists sharing the road with motor vehicles of all sizes. Doug Landau of the Herndon law firm ABRAMS LANDAU, Ltd. will be advising Herndon's bike-based officers about this free benefit. Hopefully, all of the bicycle officers in Herndon and Reston Virginia as well as those who traverse the W&OD Trail will soon have WABA memberships and receive the excellent "Ride On" publication.