Landau gives away Team USA World Championship slot
The hotter the conditions, the better Triathlon Trial Lawyer Doug Landau races. However, after hot races Saturday, Sunday morning was cold, wet and raining. The USAT Sprint Triathlon Championship race started with a half mile swim in the river by the University of Alabama campus. Then, triathletes had to run up the steps to Manderson Landing and jump on their bikes in order to start cycling down Warner Highway. After a short straightaway, there was the first hairpin turn, and then the long ride, hilly ride out in the rain. The Landau was ringing his bell as he passed the faster swimmers, and though constantly on the brakes, he kept his heart rate high. At the second hairpin, the bicyclist in front of him crashed to the pavement, but avoided serious injury. The bike racers crossed the river, had another tight turn, and then headed home. Bicycle advocate attorney Landau managed a 22.7 mph average for the 12.4 mile course, and after a 47 second transition, ran in soaked shoes to try to catch others in his age group.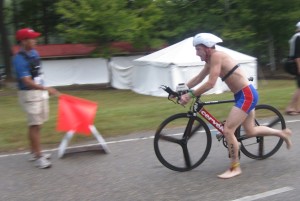 Because the temperature was only in the 60's, Landau could not muster much better than a 7 minute-per-mile pace for the 5 km run, however, he threw in a strong kick to break 72 minutes. Copping 10th in the age group meant that Landau automatically qualified to represent the USA at the World Age Group Triathlon Championships in Beijing, China. However, the ABRAMS LANDAU lawyer gave up his spot so that another racer could go and experience this international competition. Due to his performance, Landau will again be a Sprint Triathlon All American and will likely compete at next year's National Championships. Upcoming races include the VTS Giant Acorn at Lake Anna in Spotsylvania Virginia next Sunday. As always, Doug Landau welcomes clients, their families and friends who want to watch him "in action," either at the races or trying cases. Call (703-796-9555) or e-mail the Landau Law Shop for details and his upcoming schedule of cases and races.