Reston Triathlon has continuity, great volunteers and community support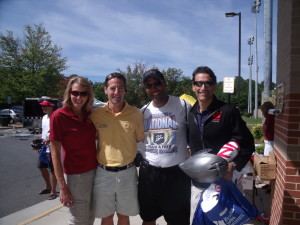 While the Reston Triathlon fills up in a nanosecond, the great staff, volunteers and community support make the hassle of waiting by your computer worth it. The Reston Triathlon Association Board meets throughout the year and has the triathletes' safety and enjoyment in mind at all times. Donna, Boofie, Tom, Chuck, Bunny, Abbie, Joe, Richard and the rest of the Reston stalwarts put in a lot of time, effort and sweat into making race day a success. This year, the run course was marked with mile markers, arrows and some of the trail's bridges were replaced.
The Reston race crew get up hours before the participants, set up the transition racks in the day's leading up to the race and then have to clean up the Lake Audubon landing and South Lakes High School finish line and transition area. It is exhausting work. So, please consider writing a letter to the editor of your local paper to compliment the people who work tirelessly to enable multisport athletes to participate in a fun local tradition – the Reston Triathlon.