Free Activities for kids at Kit Callahan's Miracle Mile, 10k, 2 Miler, Fun Run and Fair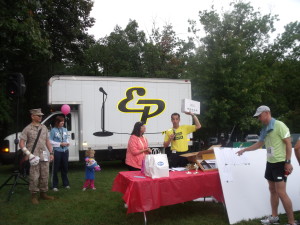 Get ready for the 7th Annual Kit Callahan's Miracle Mile, 10K, 2 Miler, Kid's Fun Run and a Brain Injury Awareness Fair. Join us on Sunday, September 26, 2010 at George Mason University for a great day of fun and learning for the whole family. All activities at the Fair are FREE and Kid's Under 10 Run/Walk for FREE. You can not ask for a better family outing then this event. Triathlon Trial Lawyer Doug Landau has been a volunteer and sponsor of this wonderful event, and you may have seen the Herndon brain injury lawyer passing out flyers at local races for these running races.
Brain Injury Services Fair Activities will include:
Face Painting by DeeVinchey and Friends
Fire Truck
Dr. Aravich and his Brains
Coloring Station
Bike Helmet Giveaway (while supplies last)
Brain Injury 101 Education
Virginia Wounded Warrior Program Education Booth
and much, much more!!
Great Family Fun Activity
From Brain Injury Services!
and……it won't break your bank!
For more information or to register today please visit Kits Miracle Mile website