Bike to work day – FREE Pit Stops for Bikers !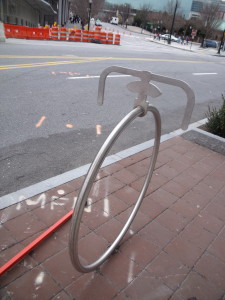 Bike to Work Day is May 21st. Triathlon Trial Lawyer Doug Landau enjoys participating in Bike to Work Day, seeing friends at the rest stops, and picking up useful "SWAG" ("Stuff We All Get"). This year, 35 pit stops around the region will offer snacks, drinks and other services to bikers, including 8 stops in Fairfax County and one in the City of Fairfax. The local "Pit Stops" include the Herndon Town Green down the block from the "Landau Law Shop." While many injured cyclists have been helped by ABRAMS LANDAU, Ltd., we hope that there are no bike crashes or injuries that require our assistance. The Fairfax area Pit Stops will be found next Friday morning at:
Reston Town Center
Vienna Town Green near the W&OD Trail
Van Dyck Park in Fairfax City
Fairfax Corner (near Coastal Flats)
Booz Allen Hamilton in Tysons Corner, 8283 Greensboro Drive
Metro Park business park, on Walker Lane in Springfield
Merrifield Park (Strawberry Lane and Gallows Road)
Burke Virginia Railway Express park and ride lot
Herndon Town Green near the W&OD Trail
We hope to see a large turnout of Loudoun, Fairfax and Leesburg bikers for this fun, free and environmentally friendly annual event !