Landau "skirts" the competition, wins multiple awards at Junior League of Atlanta's "ShamRock 'N Roll Road Races"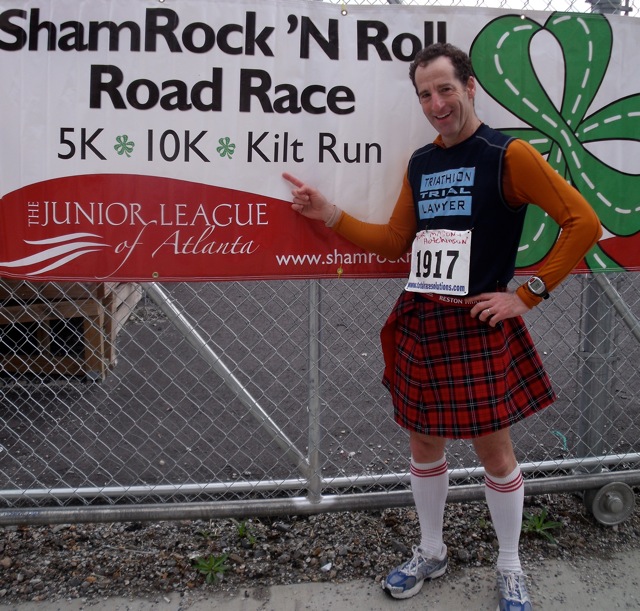 While in Georgia visiting clients and local counsel, TriathlonTrialLawyer Doug Landau donned a kilt and raced in the Junior League of Atlanta's 6th Annual ShamRock 'N Roll Road Races. As if stealing his eldest daughter's kilt and soccer socks were not enough, the Oak Hill Virginia racer entered BOTH the 5km and the 10km. races, which gave him only 10 minutes to catch his breath, grab a bite and re-fasten his kilt with multiple safety pins ! When asked why he entered BOTH races, lawyer Landau replied, "I did not want to freeze my parts waiting around for the awards ceremony standing around in a #@&!+*?## skirt !"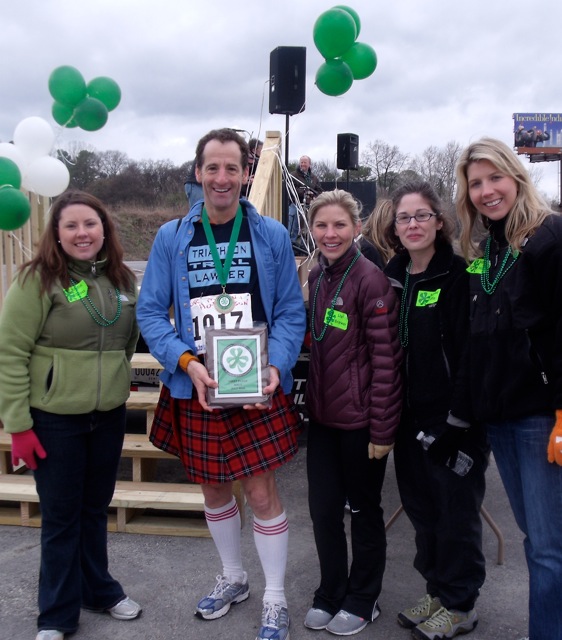 Traveling lawyer Landau was racing in honor of a client from Lawrenceville Georgia who was injured in a truck accident in Florida, and also a client from the Virginia Tidewater area who was hurt in a truck crash in Rocky Mount, North Carolina. In the first race, Landau won First Place in his age group, despite the kilt, and was 30th overall out of 811 finishers in 22:19. The second race was 2 loops over the cold, hilly and windy course around Atlanta's Atlantic Station. Landau had no sooner caught his breath and had a drink when it was time to race the 10km. Finishing 54th out of 580, Landau copped the "First Place Kilt Racer" Award in BOTH races. The Virginia, Florida, Georgia and North Carolina truck injury lawyer was inspired by his eldest daughter who ran the Virginia Beach Half Marathon in a kilt to also raise money for charity. However, in post-race interviews, Landau noted he does not intend to race in a kilt again any time soon – his knee caps and other parts got cold as he did not know how to keep the darn thing shut on the windy corners of the course !