Triathlon Accident results in paraplegia and settlement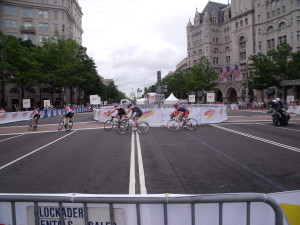 Having volunteered at triathlons, running races and other sport events, the LA Times story that a multisport event volunteer was crippled at an major competition caught my attention. A Los Angeles triathlon volunteer was in a car crash that left him a paraplegic. The injured triathlon volunteer was on his motorcycle officiating the bicycle portion of the race when he was hit by a car. The race official suffered a fractured vertebrae, underwent multiple surgeries and spent two years in the hospital.
.The injured plaintiff's lawsuit contended that the accident was caused by a traffic cop who allowed a vehicle to enter an intersection into the volunteer's path, causing the accident. As a result of the motorcyclist's impact with the car, the biker's body was flung about 20 feet. The disabled plaintiff was a motorcycle aficionado for more than 40 years and had volunteered for various events with his motorcycle club. A police report at the time had concluded that the motorcyclist had been speeding and was responsible for the accident.
.Nevertheless, the city of Los Angeles paid $7 million to settle the lawsuit brought by this 2007 LA Triathlon race volunteer. The paraplegic plaintiff and his wife are slowly building the foundations of a new life, ordering a customized wheelchair and a van that can accommodate his needs. The city also paid $250,000 to a race official who was riding with the biker on his motorcycle and $500,000 to the driver of the car.