What is "Actual Risk" under Virginia Worker's Compensation law?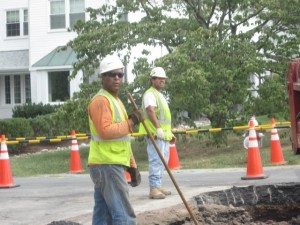 "Just because you are injured at work does not mean that your workplace accident will be covered by your employer's Workers' Comp insurance," notes Doug Landau of the Herndon Law firm Abrams Landau, Ltd.   The Commonwealth of Virginia adheres to the actual risk test to determine whether or not an injury arises out of employment.
Under this test, an injury "arises out of the employment" when it is apparent to the rational mind upon consideration of all of the circumstances, a causal connection between the conditions under which the work is required to be performed and the resulting injury.
In a Dollar Tree stores case addressed by the Virginia Court of Appeals, the court held that the Virginia Workers' Compensation Commission (VWC) did not make a mistake when it concluded the employee's injury had arisen out of her employment.
The Dollar Tree discount store manager was forced to maneuver around a stack of one gallon water containers at the front of the cash register in order to close out at the end of the day. As she was doing this, her left foot caught the corner of the water stack, resulting in a neck injury and surgery after she grabbed onto the edge of the register when she fell from catching her foot on the water stack.
The Virginia Workers' Compensation commission found, as a matter of fact, that the water stack was peculiar to the workplace and not common to the neighborhood.
The Virginia Court of Appeals affirmed the award of benefits to the injured discount store manager.
If you or someone you know has been injured at work and there are questions as to what laws apply, email or call Abrams Landau, Ltd. at once (703-796-9555).