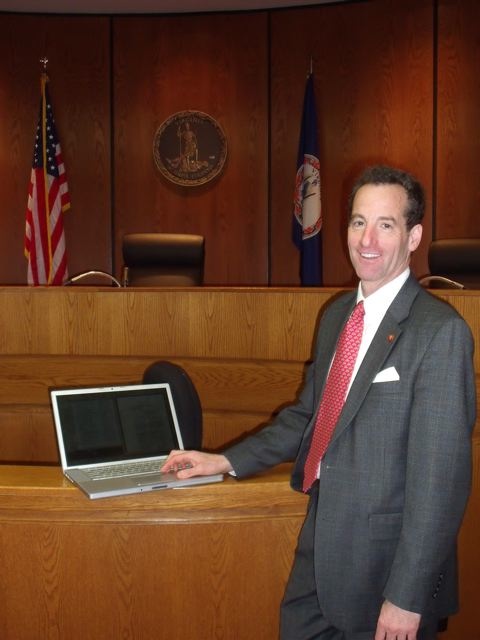 It's all at his fingertips – Herndon Aircrash Lawyer Doug Landau brings laptop instead of boxes to trial in Richmond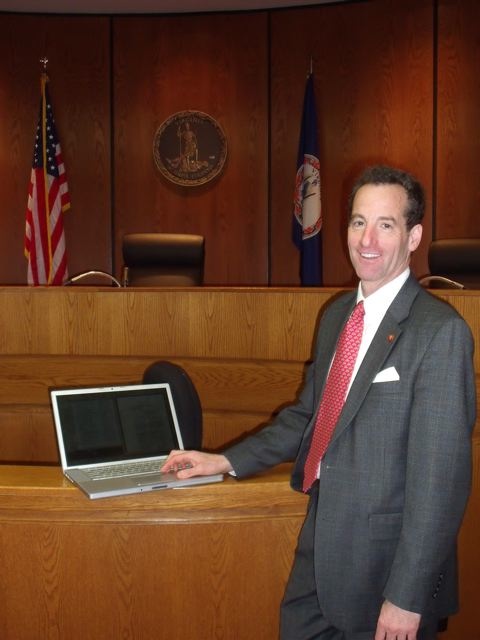 When Doug Landau's law firm received word that a pending case in Florida would also need to be tried in Virginia, and that this fatal airplane crash had already generated boxes of documents, the ABRAMS LANDAU trial team set about to load materials into the firm's computer system. This way, when the traveling trial lawyer went to visit the clients in Carolina, South West Virginia or prepare them for testifying at the State Capitol he would have all the materials he needed at his fingertips.
Doug Landau is shown here at the Workers Compensation Headquarters after presenting the case on behalf of the surviving son of the deceased pilot. The Herndon Reston Virginia lawyer used his laptop to cite correspondence and crunch numbers in this complicated fatal jet crash case. Clients who have come to see Doug try cases in court have remarked upon how his side of the table is so neat and orderly while his opponents have piles of disorganized paper and folders ! Come see the ABRAMS LANDAU team in action. Call today to find out when we are next in court near you !