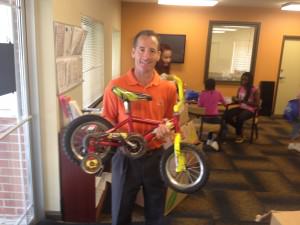 Bike Safety Laws Should be a Priority in Virginia
on our roadways.  Here is an excerpt from the newsletter:
"Biking safety has always been a priority of Potomac Pedalers.  Recent events emphasized that we need to ensure that public officials keep that in mind.  The tragic incident in which one of our riders, Albert (Wayne) Caviness, was struck by a vehicle and died as result of his injuries, made it very personal to us.  We have talked with the responding officer and have arranged to meet with him after the investigation and review by the Fauquier Commonwealth Attorney is completed.  We would ask you to email the Commonwealth Attorney and say that in cases where a preventable accident is caused by the driver of an automobile resulting in injury or death to a cyclist, that he consider very serious charges against the driver.  The Fauquier Commonwealth Attorney is James Fisher and his email is: james.fisher@fauquiercounty.gov.

In the past legislative session, Virginia has defeated all potential safety legislation with the exception of allowing jurisdictions to fine bicyclists up to $100 (originally $250) for not stopping when a trail crosses a road.  We would like to ask you to email your legislators to tell than that such legislation is important to you and that they should vote to approve it."
Herndon bike accident lawyer Doug Landau finds this interesting and troubling. "When avoidable death and injury is caused by the unsafe decisions and actions of a car or truck driver, serious legal consequences should ensue," says Doug.  "I encourage anyone reading this post to email the Commonwealth Attorney as suggested by my colleagues at Potomac Pedalers."
If you or someone you know has been injured due to the unsafe actions of another, and there are questions as to what laws apply, email or call Abrams Landau, Ltd. at once (703)796-9555.