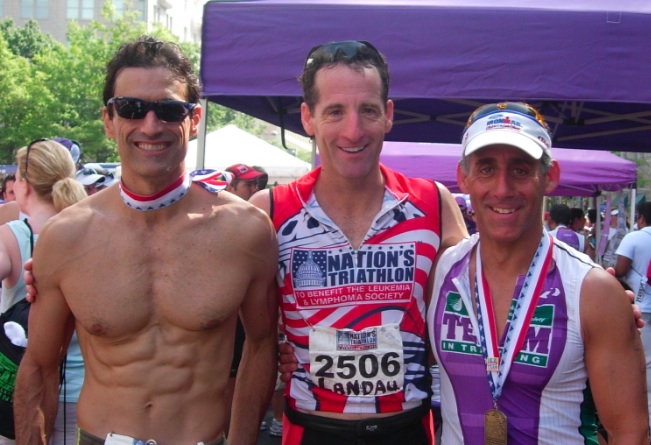 $900,000,000 raised for the Leukemia and Lymphoma societies by "Team In Training"
Doug Landau and several of his Maccabiah teammates participated in the 3rd annual DC Nations Triathlon that  raised money for the Leukemia and Lymphoma societies.  Doug Landau has represented people who have become disabled due o these terrible diseases before he Social Security Administration.  This multisport race in the Nation's Capitol took participants past many of the monuments and memorials.  But what was equally inspiring, was all the purple outfits worn by those who had raised funds and were there not necessarily to race, but to finish.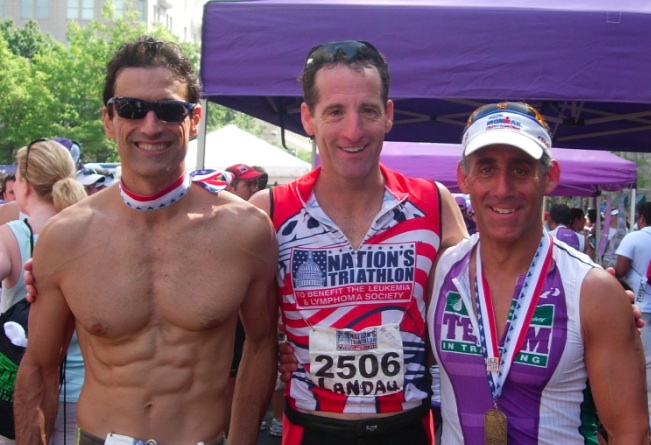 What The Herndon Reston injury lawyer also found astounding was the amount of money raised by the "Team in Training" ("TNT").  It was announced that the "TNT" program had raised nearly One Billion Dollars !  My teammate and friend Steve Shulman (shown in the TNT jersey) has become a Team in Training coach.  He enables people to participate in, and finish multisport events, while raising funds for an important cause.  And he does this on top of a busy legal practice.  Also shown is ABRAMS LANDAU, Ltd. client Rob Urbach.   This Arlington cyclist won his age group just 2 years after being struck by a cab during a training ride in Virginia.  Doug Landau salutes these 2 friends and their success at the Nation's Triathlon.