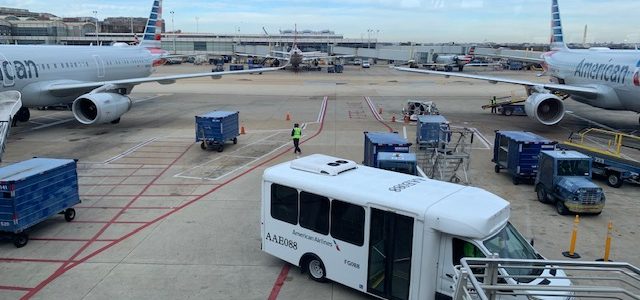 Smashes & Crashes at the Airport: What Can Injured Victims Do?
Under the sign for the hamburger venue Smashburger at Reagan National Airport (DCA), airport injury attorney Doug Landau observed a number of: Metropolitan Washington Airports Authority (MWAA) cars, airline luggage tugs, fuel trucks, passenger transport mini buses, ramp vehicles and electric maintenance Cushman carts zipping around the "Air Operations Area" (AOA). The Air Operations Area is the area of an airport that is used for landing, take off, or surface maneuvering of aircraft.
Passengers are not allowed on the AOA because of the dangers from ground vehicles, jets, noise, engine blast, etc. There are special rules that apply to injuries if there are accidents on the runway, and the team at the Herndon law firm Abrams Landau, Ltd. has experience working within those rules to help injured passengers and airport and airline workers.
One of the novel aspects of injuries occurring on the AOA is that an accident at an airport may not be the responsibility of the airport authority. Unbeknownst to many people, airlines pay to use the gates and other parts of the airport, such as the space/ground where the planes connect to the terminal, equipment, etc.  Airlines usually have long-term leases with airports to be able to use all the necessary parts of an airport and AOA to fly passengers from point A to point B. This is important to know because inexperienced lawyers who do not regularly handle airport injury cases may wait until the last minute and then end up suing the wrong corporate entity. Suing the airport authority, when it may actually be the airline that is responsible, or vice-versa, can be lethal to an otherwise meritorious personal injury case.
In addition, there are subsidiary air carriers and subcontractors on the AOA who may in fact have the most significant responsibility for unsafe conduct and an injury outside of the terminal. It is important to utilize formal and informal investigations to determine who may be responsible, what contracts or lease agreements there are between the parties, and whether responsibility rests entirely on one or more defendants, or on the plaintiff.
In airport injury cases involving airline or airport workers, an early investigation is especially critical because these individuals may have not only a personal injury case against the unsafe people who caused the harm but also Workers' Compensation benefits from their employer. Failure to properly investigate, give the required notice, and establish the claim can prove problematic later on. At Abrams Landau, we will utilize investigators, other clients and extra witnesses to help establish the facts and procedures supporting the client. If you or someone you know was injured at an airport due to no fault of your own, whether as a passenger or an employee, please give us a call (703-796-9555) or email us at Abrams Landau, Ltd.