Workers Do Not Need A Special License to Drive on International Airport Grounds
You would think that airport workers and airline employees who drive vans, cards and other vehicles around the busy gates, runways and the Air Operations Areas (AOA) would require special licensure. However, there is not class X, Y or Z license for airport drivers. Yes, all airline personnel on the AOA are subject to random drug and alcohol testing, and there are safety meetings for airport personnel, but there is no special operator's license issued by Washington, D.C., Virginia or Maryland for these workers.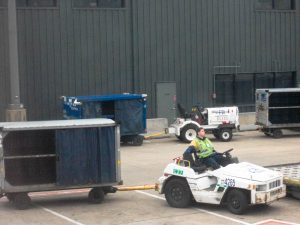 In a case investigation conducted by our Herndon law firm Abrams Landau, Ltd., evidence suggested that airlines do not even check their employees' driving licenses or DMV records after their initial hire. Lawyer Doug Landau helped an airport maintenance worker who was struck by an airline's employee speeding around a blind corner in a luggage tug. The luggage tractor driver had several serious driving tickets outside the airport, including Driving Under the Influence. Nevertheless, the unsafe luggage cart operator was allowed to keep driving on the Washington, D.C. area airport's AOA, the inside "secure zones" and around international jets.
Unlike a commercial drivers license (CDL), the folks who drive the cars, vans and other small motorized vehicles around the international jets have the same kind of drivers license you have in your wallet. Professional drivers who have a CDL must also undergo regular health exams. Landau believes that safety would be increased if these workers had special training, certification, re-testing and licensure. Especially around Washington Dulles International Airport (IAD), Reagan National Airport (DCA) and Baltimore Washington International (BWI), if those with jobs driving these cars and vans on the tarmac were required to have special training, the safety of other airport workers and the traveling public would be improved.
If you or someone you know has been injured due to no fault of your own at an airport or airplane, whether as a traveler or worker, please reach out to us by phone (703-796-9555) or email at Abrams Landau, Ltd.